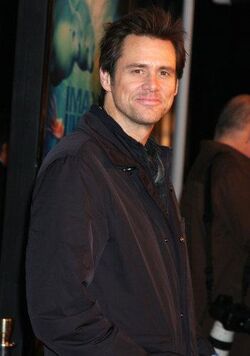 Jim Carrey portrayed Stanley Ipkiss/The Mask in The Mask.
Significant roles
Edit
Tony Moroni in Introducing...Janet (1983)
Lane Bidlekoff in Finders Keepers (1984)
Skip Tarkenton in The Duck Factory (1984)
Mark Kendall in Once Bitten (1985)
Walter Getz in Peggy Sue Got Married (1986)
Johnny Squares in The Dead Pool (1988)
Wiploc in Earth Girls Are Easy (1988)
Death in High Strung (1991)
The Exterminator in The Itsy Bitsy Spider (1992)
Ace Ventura in Ace Ventura: Pet Detective (1994)
Stanley Ipkiss/The Mask in The Mask (1994)
Lloyd Christmas in Dumb & Dumber (1994)
Edward Nygma/The Riddler in Batman Forever (1995)
Ace Ventura in Ace Ventura: When Nature Calls (1995)
The Cable Guy in The Cable Guy (1996)
Fletcher Reede in Liar Liar (1997)
Truman Burbank in The Truman Show (1998)
Joe Wenteworth in Simon Birch (1998)
Andy Kaufman in Man on the Moon (1999)
Charlie Baileygates/Hank Evans in Me, Myself & Irene (2000)
Grinch in How the Grinch Stole Christmas (2000)
Peter Appleton in The Majestic (2001)
Bruce Nolan in Bruce Almighty (2003)
Joel Barish in Eternal Sunshine of the Spotless Mind (2004)
Count Olaf in Lemony Snicket's A Series of Unfortunate Events (2004)
Dick Harper in Fun with Dick and Jane (2005)
Walter Sparrow/Fingerling in The Number 23 (2007)
Horton in Horton Hears a Who! (2008)
Carl in Yes Man! (2008)
Steven Russell in I Love You Phillip Morris (2009)
Ebeneezer Scrooge, Ghost of Christmas Past, Ghost of Christmas Present and Ghost of Christmas Yet to Come in A Christmas Carol (2009)
Ronald Reagan in Presidental Reunion (2010)
Tom Popper in Mr. Popper's Penguins (2011)
Please add some quotes from this performer about their work in Dark Horse movies!