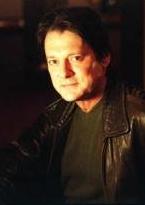 John Vickery portrayed Dr. Chamberlain in Dr. Giggles.
Significant roles
Edit
Dr. Caius in The Merry Wives of Windsor (1980)
Malcolm in Macbeth (1982)
Everett Steele in Crime Story (1986-1987)
George McLure in I Know My First Name Is Steven (1989)
Counselor Andrus Hagan in Star Trek: The Next Generation (1991)
Dr. Chamberlain in Dr. Giggles (1992)
Swanson in Deconstructing Sarah (1994)
Neroon/Mr. Welles in Babylon 5 (1994-1997)
Gul Rusot in Star Trek: Deep Space Nine (1999)
Jack the Ripper in The Others (2000)
Corey Beacham in NYPD Blue (2001-2003)
Interpol Inspector Hugh Benson in Navy NCIS: Naval Criminal Investigative Service (2007)
Gerald Prosser in Medium (2010)
Please add some quotes from this performer about their work in Dark Horse movies!