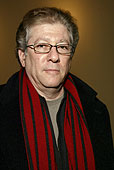 Peter Riegert portrayed Mitch Kellaway in The Mask.
Significant roles
Edit
Cpl. Igor Straminsky in M*A*S*H (1977)
Donald Schoenstein in Animal House (1978)
Eric McMurkin in Americathon (1979)
Jason Cooper in National Lampoon's Movie Madness (1982)
Richard M. Nixon in Concealed Enemies (1984)
Adult Gus Rosenthal in The Twilight Zone (1985)
Dr. Harris Kite in The Stranger (1987)
Adult Baby Elroy in That's Adequate (1989)
Robert Benham in A Shock to the System (1990)
Capt. Gregory Fanducci in The Runestone (1991)
Peter Syracusa in Passed Away (1992)
Mitch Kellaway in The Mask (1994)
Steve in Coldblooded (1995)
Jerold Dixon in Law & Order (1996)
Stanley in Jerry and Tom (1998)
Attorney Michael Adler in Traffic (2000)
Ted Fisher in The Beast (2001)
Ronald Zellman in The Sopranos (2001-2002)
Max Weinstein (voice) in Family Guy (2003)
Chauncey Zeirko in Law & Order: Special Victims Unit (2004-2007)
George Moore in Damages (2007)
Peter Blanchard in Leverage (2009)
Judge Harvey Winter in The Good Wife (2009-2010)
Bob in The Chosen One (2010)
Please add some quotes from this performer about their work in Dark Horse movies!